The KDAA is a not for profit organisation which has been established for over 100 years.
During this time its range of fisheries has expanded and retracted leaving the fantastic venues it has today.
A succession of dedicated and hard-working Executive Committee members have left their mark on the Association but none more so than General Secretary of over 40 years Mick Millinchip.
Mick, along with his Committee colleague and partner in crime Derek Davis and with fantastic support and, at times, guidance from his fantastic wife Marj, steered the Association through many highs (and the odd low according to Mick and Derek).
At its peak in the 1970s, when the Bewdley fishery on the Middle Severn gained national fame for its barbel fishing, there were over 40 affiliated clubs and a waiting list for every open match.
However, the Association is now focused on individual members and, whilst barbel are still a prized quarry for many anglers, its Bewdley fishery has returned to its origins as a mixed fishery with appeal for a broad range of angling interests.
Combined with its restored Winnall fishery on the Lower Severn and its similarly rejuvenated pool near Kidderminster, the KDAA prides itself on all of  its broad range of members and visitors being welcome… to choose.
Mick Millinchip retired as General Secretary in 2016 with the Association in an excellent position, enjoying a strong resurgence with a growing membership, dramatically increased match attendances and fisheries in their best ever condition.
The KDAA continues to be co-ordinated by an Executive Committee which meets on the second Tuesday of every month and it currently comprises the following roles:
Chair
President
General Secretary
Treasurer
Match Secretary
Assistant Match Secretary
Water Management Officer
Head Bailiff
Marketing Officer
Executive Committee members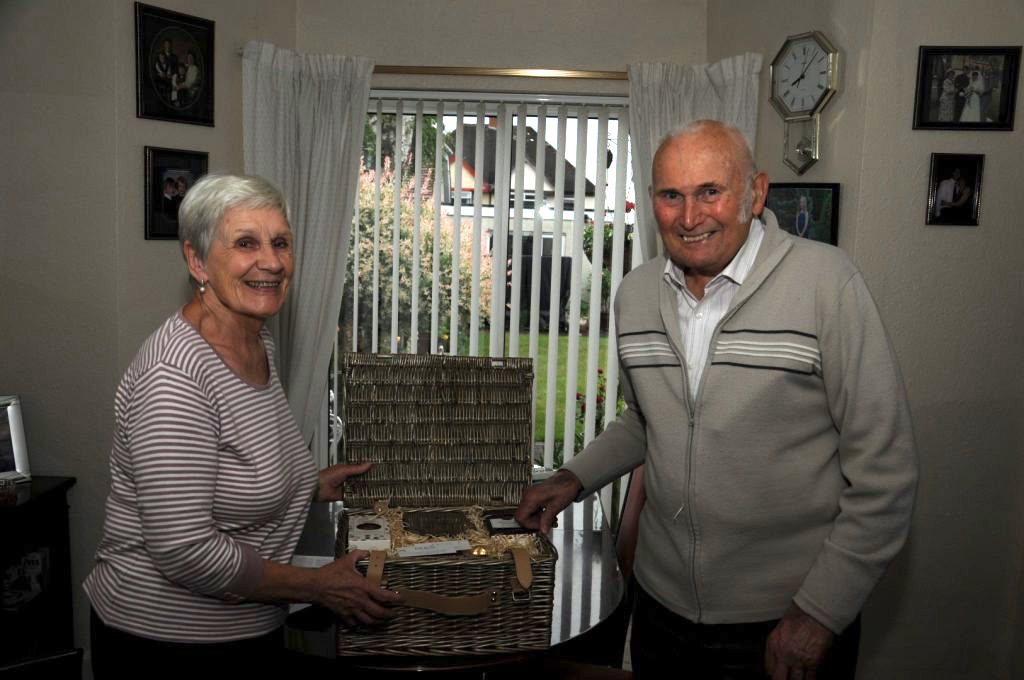 Marj and Mick Millinchip with their retirement hamper
The Executive Committee is supported by an excellent team of bailiffs who welcome anglers to the river and the pool and ensure that they enjoy themselves and adhere to the rules.
The Association is also superbly supported by anglers who volunteer their time to join work parties which help to manage and improve the fisheries and also by local tackle shops who sell membership cards and day tickets whilst providing help and guidance.
The KDAA also prides itself on having excellent relations with its neighbours and other local fishing and non-fishing organisations. It also takes its environmental obligations extremely seriously.
If you'd like to get involved with the KDAA, on the Committee, bailiffing or helping out at a work party we'd love to hear from you.